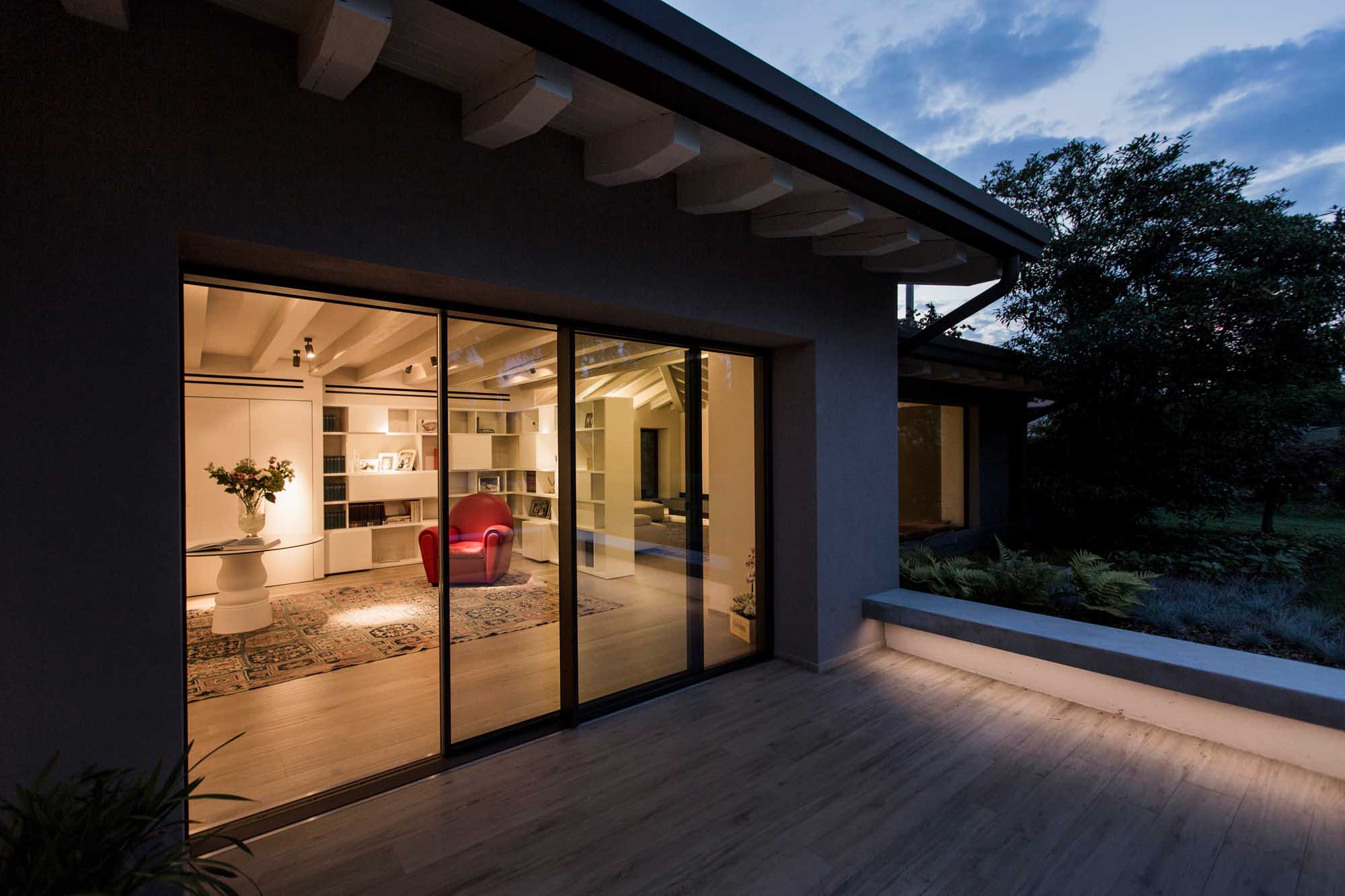 An ancient 50s farmhouse turns into an exclusive modern villa
An old farmhouse from the 50s becomes an exclusive mansion with a modern vibe, equipped with the most advanced living technologies.
Architect Simone Andrighetto tells the story behind the renovation and expansion project, carried out in collaboration with surveyor Marco Zarpellon and illuminated by OLEV.
The project
Before the restoration, the house looked exactly like a traditional 1950s casa colonica.
The owner wanted to renovate the aesthetics and functionality of the house and create an exclusive villa with a modern style.
The project involved the complete replacement of the systems, as well as a new and more modern space layout.
The original architecture has been maintained to preserve the elements that made the villa unique in the first place. 
OLEV lighting played a significant role in the project.
A careful study of the lighting project from the very beginning allowed to create different light schemes and integrate the lighting sources into the architecture as much as possible.
The result was a perfect realization of the client's idea of modern design.
The upwards directed lighting gives a decorative look to the stone cladding of the partition walls
The project included the addition of 2 elements with specific purposes.
The first element was a concrete partition wall covered in verdello and biancone stone, to conceal the presence of an elevator on the west side.
The upwards directed lighting creates a dramatic effect that gives the partition wall a strong decorative character.
The new entrance opens onto a large garden with a swimming pool illuminated by spectacular light effects
The second element is a one-story entrance, which has become part of the living room.
Thanks to the large windows, it offers a panoramic view of the vast garden with a swimming pool.
Precisely the spacious garden is an essential part of the villa.
The lighting designed specifically for the plants and the trees enhances their beauty and uniqueness, complementing it with sophisticated light effects.
The focused light of the spotlights between the beams creates a comfortable reading corner in the living room
The living room of the villa is divided into two spaces, each with its specific functions and a different ceiling.
The section connected to the kitchen is an ideal area where to find peace and concentration.
The space around the armchair becomes a comfortable and well-lit reading corner, thanks to the focused light of the adjustable spotlights hidden between the horizontal beams.
The wall sconces provide a relaxing atmosphere in the TV area
The TV area features a unique ceiling with sloping beams.
OLEV Novanta° wall sconces project the light upwards, so as not to tire or glare the vision.
The lighting effect is soft, ideal for a relaxing atmosphere.