The new OLEV lamps look like they are gracefully floating
Here is the new series of designer lamps created by Marc Sadler for OLEV.
---
The name Overfly describes the series perfectly. The lamps are lightweight, designed to be suspended gracefully but still catch the eye. Almost like a UFO, whose iconic shape they also evoke.
The unique selection of refined finishes was created specifically for OLEV by skilled Italian craftsmen.
The full-bodied super-matt effect is the result of an entirely manual process.
"Overfly is a collection that uses the consolidated know-how born from the collaboration with OLEV started a few years ago.
It is a good example of optimization of production processes. " – Marc Sadler-
---
Overfly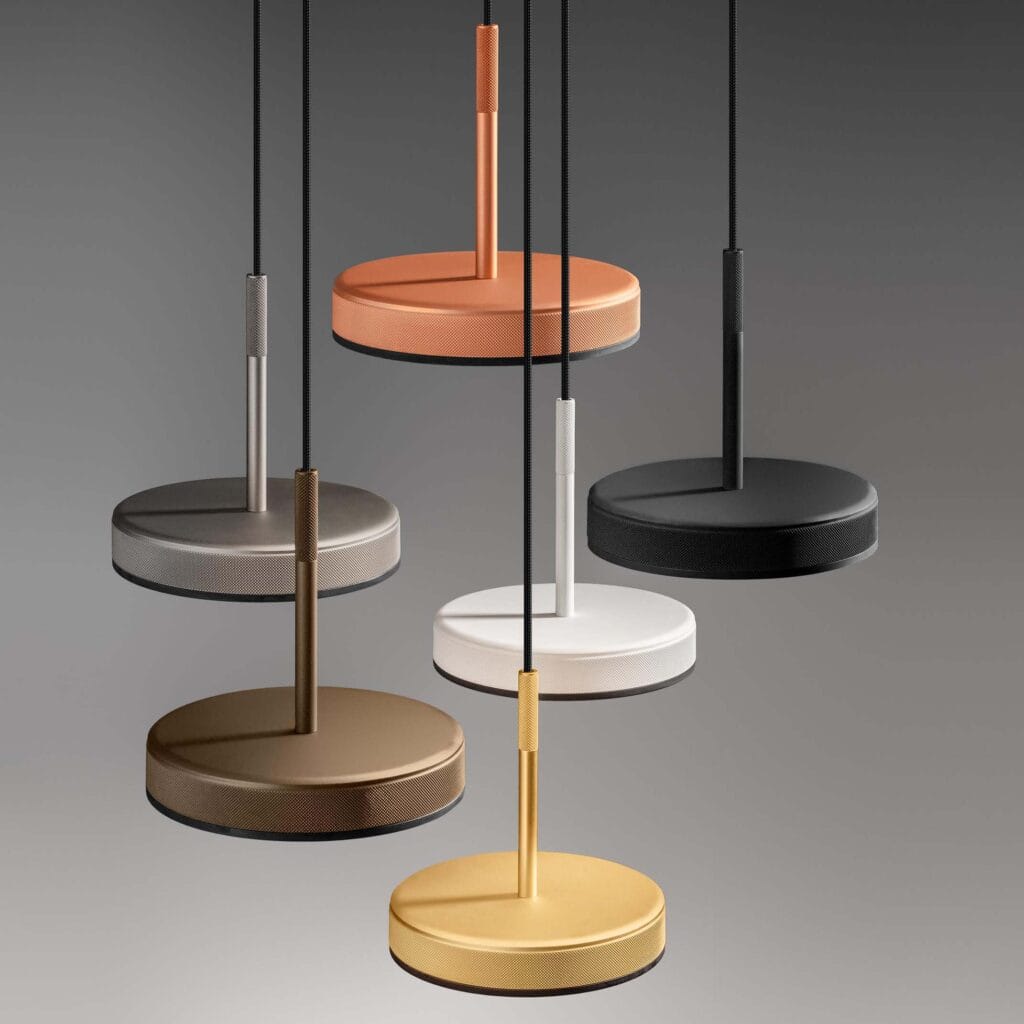 The piece that gives the name to the series is the most minimalist version.
But don't be fooled by its compact size: the lamp projects a bright and intense light beam downwards.
The criss-cross knurled engravings embellish and cover the entire perimeter of the lower disc, creating refined reflections of light.
The same processing is also recalled in the small upper cylinder, available in a 'ton sur ton' color or with a contrasting nuance.
On request, it is possible to add an anti-glare honeycomb filter to soften the light beam for settings where gentler lighting is required.
Overfly Plus
Overfly Plus is the pendant lamp that evokes the iconic shape of a UFO.
Its delicate and extremely refined stage presence is embellished by criss-cross knurled incisions that cover the entire perimeter of the lower disc.
It is ideal for illuminating a dining table, providing direct and comfortable lighting thanks to the honeycomb filter integrated into the light source.
Overfly Plus PL
Overfly Plus PL is an indirect light ceiling lamp suitable for diffused lighting.
The central cylindrical stem that spaces the light source from the thin upper plate is entirely worked with criss-cross knurled incisions.
The wide plate, available in 2 different diameters, reflects and distributes the soft light throughout the room.