Lamps with real leaves are the new OLEV collection for Salone del Mobile.
---
GAVIN SILENCE LEAF
An LED light ring contains a set of real leaves which remains 'evergreen' and unchanged over the years, thanks to the stabilization treatment.
The thick foliage with sound-absorbing properties is housed in a sandwich of porous materials capable of absorbing sound waves improving the acoustic comfort of the enviroments.
The stabilized leafs need no water or maintenance.
The lamp responds to the emerging trend of biophilic design: a design strategy that integrates natural elements in our living spaces.
This project stems from OLEV's awareness of the ever-increasing need for direct contact between nature and human beings.
The light, designed to be comfortable for the eyes, comes from a circular LED bar which can be adjusted in intensity at any time, according to the user's preferences.

---
Discover our lamp with colored leaves at our stand during Salone del Mobile from 18 to 23 April: Pavilion 09 Stand 127.

---
SEGMENTO
Segmento is a flexible lamp.
The rod is flexible, to shape endless free compositions, as each Segmento can be stacked onto or crossed with others, or installed on the corner of a wall, for a versatile and innovative elegance that enhances any kind of space.
---
---
TRISEL
Inspired by lightness and transparency, Trisel is an elegant suspension lamp.
OLEV's new lamps combines glass and metal, and looks like a coloured cylinder metal bar – from which light is emitted – inside a glass housing.
The housing is completely handmade, and features a succession of thin grooved lines that spread a soft, sensual light.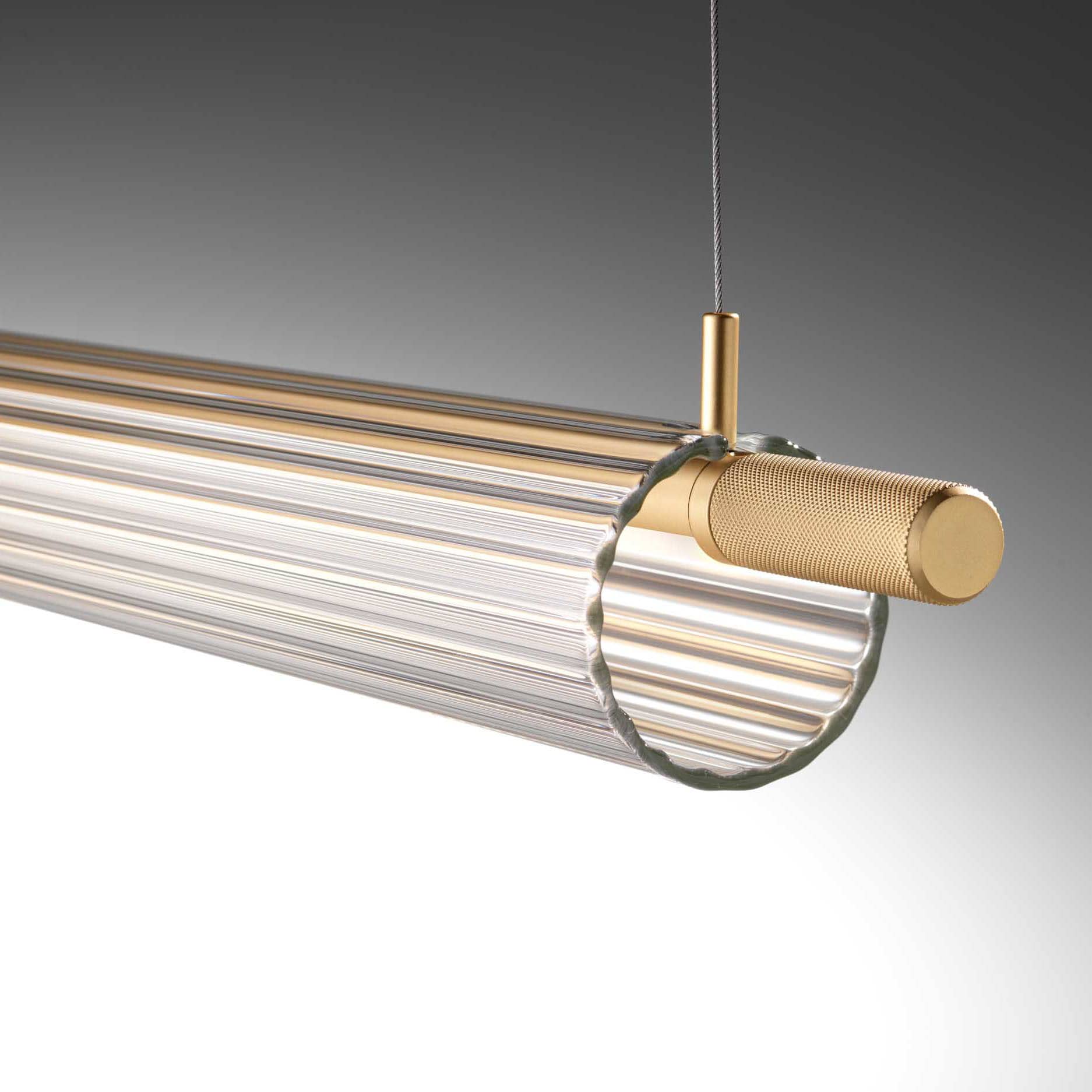 Also the metal rod features a careful design, and its ends – protruding from both sides of the glass tube – stand out also for the peculiar ribbed engravings, determining a precious and unique style.
---
---