The complete guide to designer lighting for every room in the house
.
In a furnishing or restyling project for a new home, lighting is a fundamental factor.
Light can make your home more appealing and comfortable. It can make any room feel more spacious and airy.
For an efficient illumination, we have today an incredible technology in our hands – LED lighting.
We all already know about the benefits of LED lighting in terms of energy saving and durability. But not everyone knows that with LED lamps you can create fascinating effects in every room of your home.
For example, you can adjust the light intensity as you wish, or combine different types of cold and warm light.
With the arrival of LED technology, the lighting solutions have also changed.
Until a few years ago, it was enough to choose a beautiful chandelier and place it in the middle of the room. Now, designing a professional lighting project is a more ambitious challenge.
A complete lighting project includes different types of lamps, chosen according to the specific requirements of the environment and to personal aesthetics.
But above all, it should provide a light that generates a sense of well-being.
A light that embraces you in a welcoming and relaxing atmosphere when you come home after a long day of work.
Our home is our nest, our safe haven.
Those in charge of the design should always study the details aiming at the ultimate psychophysical well-being of the people.
It is important, for example, to provide a light that is warm, just like sunlight at sunset.
That's because the inner natural rhythm of our body is directly influenced by the light and its variations.
Warm light with red and orange tones stimulates the natural production of melatonin, a hormone that makes us feel more relaxed before going to sleep.
I have been engaged in the lighting industry for 25 years, and I have created a company focused on the production of designer LED lighting fixtures which are capable of generating well-being thanks to the latest technologies.
In this article I want to share with you some secrets of the trade that are used in the most beautiful homes to create comfortable but at the same time elegant and refined environments.
It is an actual complete guide, room by room.
Although the lighting of each home should be tailored to the characteristics of the spaces and the specific requirements of the client, reading on you will uncover some common guidelines used by professional lighting designers.
It is a practical guide, which will be very useful when you start outlining the design of your home together with your architect.
Let's get started!
How to illuminate the living-room
In the living-room, it is important to differentiate the lighting by setting up several light sources and create the right balance between ambience, aesthetics and functionality.
This is the most challenging area to illuminate.
In fact, this is a space where many different activities take place, such as socializing, watching TV or reading a book. Often it is also the room where the children play.
For this reason, it is essential to find an ideal combination of direct and indirect light.
There is no set standard. The lighting must be designed to meet the specific needs of those who live in the environments.
So:
If you wish to create an area where you can chat with your guests, the light should be diffused, and if possible indirect.

If you like to spend your free time in the company of a good book, you will need a floor lamp beside the armchair that provides quality downward-projected light.

If there are young children, it is advisable to opt for ceiling lighting fixtures with direct light, however comfortable, not glaring, and if possible dimmable.
For the sofa/TV area, uniform indirect light is recommended, so as not to affect the vision or cause annoying reflections on the TV screen. Preferably a dimmable light, that helps you create a cosy atmosphere while watching a movie and turn your living room into a real home cinema.
How to illuminate the kitchen
We can divide the kitchen into 2 different areas, each with specific lighting requirements:
the work area;

the dining table.
In the work area you usually handle several utensils when you prepare your meals, and some of them are sharp and cutting.
As a result, you might want to choose intense, sharp, shadow-free lighting that allows you to see exactly what you're doing.
If there are wall units, it is essential to install LED strips with very high colour rendering, so as not to offset the colour of the food.
Pay attention to low-quality LED strips, which emit a bluish light and make food look uninviting.
In the work area, you may often find an island or a peninsula. In this case, you will need ceiling lighting fixtures with direct light, not glaring and again with a very high colour rendering, that can illuminate the worktop in a perfect way.
In addition to providing assistance during the preparation of meals, it is also the ideal solution that allows you to host impressive happy hours whenever you receive guests in your kitchen.  
For the dining table, you'll need to install a direct light source to illuminate the dishes properly, as well as adding a decorative element to the room – like one or more designer pendant lamps with a strong character.
In this case, too, attention to visual comfort should be the first concern.
Secondly, the pendant lamps should be positioned at a level where they won't spread neither too much nor too little light.
Finally, it is best to choose dimmable lighting fixtures that can provide well-being throughout the entire evening – the light at 8:00 PM could in fact be too bright at 11:00 PM.
In some cases, it may not be possible to install a pendant lamp over the table.
There are specific swing-arm lamps that can solve this problem and still provide a direct light source.
One thing to avoid in the kitchen is to use indirect lighting only.
Especially in a spacious room, the light would scatter excessively and the table would not be properly illuminated.
Indirect lighting is necessary to balance the light diffusion in the room in case the pendant lamp over the table only provides direct light and therefore does not illuminate upwards as well.
How to illuminate the bathroom
The bathroom has its own rules as well, and nothing can be left up to chance.
As a general rule you should set up 2 lighting sources: diffused light in the entire room, and a mirror light.  
Contrary to what you would expect, the mirror light is the most important one.
Unfortunately, however, I see many people entrusting it completely to the bathroom decor, which provides a built-in solution without worrying too much about the quality of the lighting fixture.
For this reason there are many mirrors that spread a bluish light, more suitable for a morgue than a designer home!
At the mirror, the direct light source must be filtered through an opal diffuser, to avoid the creation of shadows on the face during the make-up or shaving process.
And last but not least, the general light in the bathroom can be direct or indirect.
It all depends on the specific situation, the important thing is that there is enough light when needed.
If possible, a step light should be added to facilitate the access at night.
How to illuminate the bedroom
A common mistake is to illuminate the bedroom like any other room, with a direct and bright ceiling light that dazzles you when you wake up.
The light in the bedroom cannot be the same as in a kitchen or a home office.
As a general rule, the lighting scheme should be designed according to the wardrobe in the bedroom.
If there is no wardrobe, because there is already a walk-in closet, the lighting in the room can be far less intense, definitely more warm and cozy.
Thanks to LED technology, you can switch from intense to softer light, which is ideal for preventing eye discomfort before going to sleep and also for creating a space that regenerates you.
If there is a wardrobe in the room, it is important to illuminate it correctly.
So if your wardrobe doesn't have internal lighting, you'll need to install a ceiling lighting in front of the wardrobe, directed exclusively towards it.
This way you can have a better view of your clothes without dazzling the person who is lying down.
At both sides of the bed there should be a 1 Watt adjustable light source, allowing you to read or get up at night without disturbing your partner.
From functional light to cosy light: Dim-to-Warm technology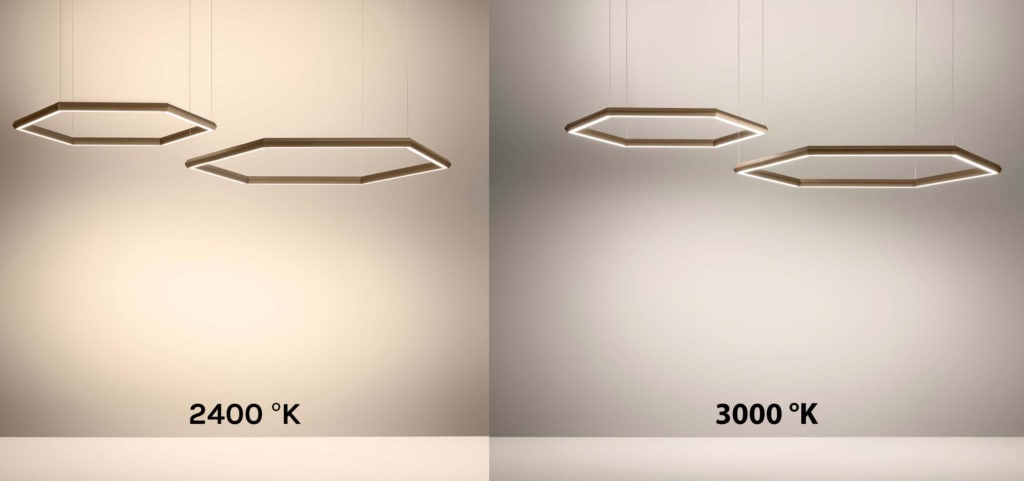 Before rounding off this quick overview of the lighting techniques used by lighting professionals, I want to talk to you about one of the most recent and extraordinary technologies for home lighting.
Remember how the dimmer used to work in old halogen bulbs?
When you wanted to lower the light intensity using the dimmer, the light from the bulb turned to warm tones of red and orange, creating a pleasant, intimate and relaxed atmosphere.
Recently, thanks to the new Dim-to-Warm technology, the dimmers of the most modern designer LED lamps allow you to control both colour and intensity at the same time as well, just like you did with the halogen lamps.
Thanks to the Dim-to-Warm you can now have the perfect light at all times, switching from a functional light to a soft and cozy light, ideal for your relaxing moments at home.
Discover more about Dim to Warm technology here.
---
The role of lighting professionals
As you may have guessed by reading this article, if you want to build the home of your dreams where light complements the furnishings and provides the utmost comfort for you and your family, it is important to turn to professionals.
But it's not enough to be technically competent.
True lighting professionals today are designers who are committed to enhancing well-being through proper lighting.
That's why if you're now starting to plan the house where you will be living for years with your family, you have two ways ahead of you.
You can delegate the lighting design completely.
You can leave it for last, overlooking how light can affect your sense of well-being when you return home after a long day's work.
Will it be a designer lighting, at the same time capable of adjusting to your and your family's psychophysical needs?
Maybe.
But if you realize that you have made some mistakes, it will be very difficult to retrace your steps without having to make expensive and intrusive changes to fully furnished environments.
Your second option is to trust lighting professionals, who have been working in this field for years and will be able to listen to your requirements, and transform them into amazing comfortable ambiences.
The good news is that you now have the opportunity to get a consultancy with OLEV's team experts.
My team will know how to guide you in the discovery of the best lighting solutions, room by room.
They will help you identify your needs in terms of well-being, and choose the designer lamps that match the aesthetics of your decor.
So if you are now in the middle of your construction, renovation, furnishing or restyling project, don't miss this opportunity.
---
Click HERE and request your lighting consultancy!
---